Sudan settling differences
after years bitter of civil war
SUDAN
'No matter how many enemies gather against the Sudan, the Sudan--with Allah--will conquer all her enemies.'
-Min. Farrakhan
KHARTOUM-After years of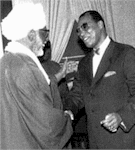 fighting a bloody civil war, the government of the Islamic Republic of Sudan and secessionist forces fighting in the southern region of this vast country have begun settling their differences at the peace table, according to a senior Sudanese government official.
Surprisingly, these latest peace overtures began among the combatants themselves "in the forest," rather than as a result of several well-meaning efforts to broker peace talks in various neighboring capital cities, Dr. Hassan Al-Turabi, Secretary General of the Popular Islamic Conference (PIC) told Minister Louis Farrakhan Jan. 16, during the Muslim leader's visit as a part of his 53-nation World Friendship Tour III.
Going back to 1994 when Min. Farrakhan participated in peace talks involving rebel commander John Gurang and Sudanese officials, talks with other world leaders including former U.S. President Jimmy Carter, and South African President Nelson Mandela and rebel leaders have been held in Nairobi, Kenya; in Addis Ababa, Ethiopia; in Abuja, Nigeria; and in Johannesburg, without achieving success.
Sudanese officials accuse the Clinton administration in Wash-ington of undermining previous peace efforts in order to overthrow the Islamic government here. "This American trend culminated recently in a vicious attack by Secretary of State (Madeleine Albright) on the people of Sudan, and a public vow to actively seek to de-stabilize and tear apart this Muslim nation," Dr. Al-Turabi wrote in the January edition of the official PIC journal Risalat Al-Mu'tamar.
The United States accuses Sudan of supporting terrorism, and has imposed sanctions on financial transactions with the Islamic government, as well as restrictions on travel by government officials inside the U.S. Secretary of State Albright recently concluded a nine-nation African tour which included stops in neighboring Uganda, Ethiopia, and the Democratic Republic of Congo. President Bill Clinton and Vice President Al Gore are also expected to visit nine African nations in 1998.
African diplomatic sources however, claim that American officials have continuously supplied arms to dissident forces in Ethiopia, Eritrea, Uganda, and Congo, fomenting clashes with Sudanese government forces. Sudan is Africa's largest territory, and shares borders with nine other states.
Along with progress toward settling the rebellion in the south of the country, Sudan is close to completing a pipeline which will make the "gateway" between Central Africa and North Africa-"Arab Africa"-a major oil producer, according to Dr. Al-Turabi.
In addition, he said the country's vast arable farmland already supports 110 million head of sheep and other livestock, and gold has been discovered, one meter (about three feet) beneath the surface, not a kilometer (just over half-a-mile) down, as in other important mining centers. In fact, he reported, something of a "gold rush" has begun among ordinary citizens.
The potential of Sudan suddenly becoming a wealthy nation, he explained, is tempered with a commitment to Islam in which spiritual values, rather than rampant materialism motivates the population. The revival of faith has also produced tens of thousands of converts to Islam among the animist and Christian population in the South, as those residents have chosen peace over war, and Islam, the religion of peace.
"The Honorable Shaykh Dr. Hassan Al-Turabi said to me that you have 110 million head of sheep and camel," Min. Farrakhan told Salatul-Jummah (congregational prayer) worshipers at Khartoum's Jamaat Mosque, following his meeting with the Sudanese official. "And I thought immediately of the 110th Surah of the Holy Qur'an. 'Bismillah ir-Rahman, ir-Raheem: When Allah's help and victory comes, and thou seest men entering the religion of Allah in companies, Celebrate the praise of thy Lord and ask His protection. Surely He is ever Returning to mercy.'
"Sudan has the help of Allah," Min. Farrakhan continued to the cheering audience. "And no matter how many enemies gather against the Sudan, the Sudan-with Allah-will conquer all her enemies."
In Sudan, the 19th country visited on this World Tour, and the last stop in Africa, Min. Farrakhan received his warmest reception to date. Welcome signs and banners were draped throughout the historic capital city where the "Blue Nile" and the "White Nile" tributaries of the mighty river converge into one mighty stream and the enthusiasm and spirit of the Sudanese for their guest was thrilling.
When he entered Khartoum University, the Nation of Islam leader was heralded by a pair of trumpeters. Then the salute that followed from the dancers and drummers assembled to celebrate his presence took 30 minutes before its conclusion.
For the first time in any of the Muslim countries the delegation visited-even more than in Libya-female students at Khartoum University were given truly equal status with males. Instead of being confined to a balcony, or being required to sit outside the auditorium as women are made to do at mosques throughout the Muslim world, female students were seated in several front rows with the men seated behind.
The elevated treatment of women, whose enrollment may even outnumber that of the men, at Khartoum University, resonates with one of the themes Min. Farrakhan has stressed on this tour and for years to the Muslim ummah (community) everywhere. "Allah has seen fit to name a chapter (Suratal 19, "Maryam") in the Eternal Book after a woman. Why?" the Minister asked a Muslim audience in Africa.
"It is because the womb of the woman is sacred. From her womb came Ibrahim (Abraham). From her womb came Issa (Jesus). From her womb came Musa (Moses). From her womb the Seal of the Prophets, Muhammad. Her womb is the workshop of Allah.
"And from her womb, you came. This is why Allah says in the Qur'an: 'The believing man, the believing woman. The charitable man, the charitable woman. The sacrificing woman.' For without a knowledgeable, sacrificing, believing woman, you will never have a sacrificing, charitable and believing man."
[ Photo: The Honorable Minister Louis Farrakhan, right is greeted by Dr. Hassan Turabi, the speaker of Sudan's Parliament Jan. 16 during the Minister's stop in Sudan, part of his World Friendship Tour. ]
We want to hear from you!
Letters to the Editor