Friendship Tour
discovers 'secrets' of Africa
MALAWI
'We feel greatly honored by your visit.'
-Malawi President,
Bakili Muluzi
BLANTYRE, Malawi-The Honorable Minister Louis Farrakhan's historic 53-nation World Friendship Tour III is certainly not a vain or bourgeois trip.
Venturing thus far, into five countries currently under the tyranny of U.S.- imposed economic sanctions, the Muslim leader and his 24-member delegation have gone unafraid into another five countries-including Liberia and the Democratic Republic of Congo-which have shuddered in the face of bloody civil wars or foiled, treacherous coup-plots within the last six months!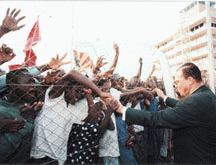 Of course ancient-as well as cosmopolitan-capitals such as Baghdad, Cairo, Johannesburg, and Khartoum have been included. Still, few of the 16 African nations visited are household names-Bamako, Mali; Banjul, Gambia; Niamey, Niger; Lilongwe, Malawi; Moroni, Comoros, among them.
"We feel greatly honored by your visit," President Bakili Muluzi of Malawi told Min. Farrakhan during their meeting Jan. 15, "I have been very impressed because you emphasized social services, medical services, and education. You encourage our people to produce."
President Muluzi pointed out his country's educational achievements since he was elected in 1995, after 30 years of rule by Dr. Hastings Banda. In 1994, he said, free primary school education was available to 1.9 million children. Now, he said, 3.5 million children are in classes.
For his part, Min. Farrakhan has made his entire trip an educational project. In each country visited by the U.S. Muslim leader, a flag of that country and a portrait of its president has been presented to the delegation for display in the gymnasium of the Nation of Islam's University of Islam in Chicago. Students at the Muslim school will study each country and its leader in order to inform their classmates, their parents and future visitors in detail about the countries to which Min. Farrakhan traveled.
The most important aspect of Min. Farrakhan's visit, however, President Muluzi told the Nation of Islam leader is that: "You are a bridge of peace in the world. We (in Africa) need that kind of person, who can talk about peace. You are a source of peace in the world."
The World Friendship Tour III has ventured into Uganda, where Min. Farrakhan met with the Hon. El-Hajji Gen. Moses Ali, Second Deputy Prime Minister and Minister of Tourism, Wildlife and Antiquities; and with Col. Kelinde Otafire, an aide de camp of President Yoweri Museveni who was out of the country.
The Nation of Islam leader encouraged a resolution of Uganda's border disputes with Sudan, as well as the repatriation under stable conditions for tens of thousands of Hutu refugees inside Uganda from neighboring Rwanda and thousands more refugees from both the Democratic Republic of Congo (Kinshasa), and Republic of Congo (Brazzaville), which have been beset recently by civil war.
In Ethiopia, the Muslim leader met with Prime Minister Meles Zenawi-in the palace once occupied by Emperor Hailie Selassie-where he also stressed peace and reconciliation with neighboring Sudan, and applauded that country's centuries-old tradition of Muslim, Christian, and Jewish harmony and tolerance. Under Prime Minister Zenawi, Min. Farrakhan was told, for the first time in modern Ethiopian history, Muslims are practicing their full religious rights, and the Constitution has been amended to recognize religious equality.
Like her Red Sea neighbors Egypt, Sudan, and Saudi Arabia, Ethiopia is rich in religious history, and is the seat of Coptic (traditional) Christian worship. Neither Islam, nor Christianity, nor Judaism was "exported" to that "cradle of civilization" by Arabs or by Europeans.
Bilal-Prophet Muhammad's (PBUH) first "muezzin," who originated the "adhan" (or call to prayer)-was of Ethiopian origin. King Ahmed Neghashe is another important Islamic historical figure, who lived in Tegraye, Ethiopia.
Ahmed Neghashe was an Ethiopian king, who was the first person of nobility to accept Islam. He was a friend of Islam's Holy Prophet (PBUH).
While in Ethiopia Min. Farrakhan and his delegation visited the National Museum where they viewed exhibits which bear witness to the teaching of the Honorable Elijah Muhammad, concerning the awesome accomplishments of the ancient Africans who lived in the "Horn of Africa."
Modern Ethiopian Muslims, according to Imam Abdul Razad Muhammad, General Chairman of the Supreme Council of Ethiopian Islamic Affairs, view Min. Farrakhan's "charismatic leadership" as that of "the most influential person of our time. We believe the sun is rising for the (Muslim) ummah (community)," he said.
Before the enthusiastic, eventually surging crowd inside the Mosque Anwar Jan. 14, Min. Farrakhan likened his own influence to a fulfillment of the prediction by Prophet Muhammad (PBUH), that "the light, the sun of Islam would rise from the West in the latter day, the sun is rising from the West, signaling a new dawn for the ummah of Islam." "My dear brothers, you must know," the Minister said to the throng after describing the 400-year-long sojourn in slavery and freed-slavery of the children of Africa, "that Allah (SWA) was the architect and planner of everything. In the Qur'an and the Bible you have the story of Yusef who was sold into slavery by his brothers."
"Soon, Joseph (Yusef)," the Muslim leader continued, "became a master in the land where he was sold as a slave. Allah has decreed that we, your brothers would be sold into America, as Yusef, and now we are rising, insha-Allah (God willing), to become masters in the land where we were sold as slaves."
Islam, Min. Farrakhan said, will become the predominant religion inside America in the 21st Century. "I am sure that in this next century, Black people, African people in America will become President; will be leaders in the Senate; in the Congress; we will be governors; we will be masters in the land where we were sold as slaves, by Allah's permission!"
By the conclusion of the speech, the spirit had reached a fever pitch. Thousands and thousands of Muslims, rushing simply to touch the Minister, to express their love, strained the very security perimeter around the Muslim leader until he was safely escorted out of the mosque.
Malawi is a lush country in Southern Africa. Although landlocked, the country has huge lakes within its borders, and had ample rainfall. Sitting on average, 2,000 feet above sea level, temperatures rarely reach warm extremes during the summer-December, January, or February, which is also the rainy reason-or cold extremes, below 50 degrees Fahrenheit in June, July, or August, the Malawian winter.
Like nearby Zimbabwe, and the Comoros Islands, Min. Farrakhan described Malawi as a virtual "paradise" that has been a "well-kept secret" from the American people. In addition to moderate climate, a wide variety of wildlife, and eye-pleasing geography, the populations of each of those nations in the Southern African region are clean, law-abiding, friendly, and peace-loving, despite grinding poverty all around.
Minister Farrakhan described President Muluzi as an example of the kind of leader who can help transform Africa into a "super-power in the 21st Century. Not a superpower of military madness," he said, but a "super-power of spiritual and moral integrity." "I am a Muslim," President Muluzi said, "yet I took after all the people of Malawi."
[ Photo: Joyous throngs of well-wishers greet Min. Farrakhan at Kotoka Intl. Airport during the World Friendship Tour III's recent stop in Accra, Ghana. ]
We want to hear from you!
Letters to the Editor