Farrakhan, Taylor pray
for Liberian 'healing'
MONROVIA, LIBERIA
'I really believe our day has come about as a result of God's goodness, as a result of Gods mercy.'
-Rev. Johnathan
C. Taylor
MONROVIA, Liberia-Now, at the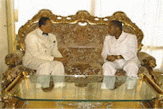 dawn of 1998, after seven years of a bloody civil war which has literally touched every Liberian household, Muslims and Christians, those who are inside government and those who are outside of government agree that as newly-elected President Dahkpanah Dr. Charles Ghankay Taylor settles in to lead this West African nation, Liberia "has come a long way."
"I really believe our day has come about as a result of God's goodness, as a result of God's mercy," said the Rev. Johnathan C. Taylor, Dec. 28 at a special worship service in honor of his cousin, President Charles Taylor, and members of the Liberian government in the Executive Mansion. Rev. Taylor is associate pastor of the Bethel World Outreach Ministry in Silver Spring, Md.
The Honorable Minister Louis Farrakhan, several members of his family, and members of his 24-person delegation who were in Liberia on the 10th stop of his 50-plus nation World Friendship Tour III, were in attendance.
The worship service spanned not only the "bridge of bones" across the floor of the Atlantic Ocean made by the 100 million souls thrown overboard from slave ships during the Middle Passage, but it spanned the cultural divide which has grown across the 15 decades since freed slaves from America returned to make Liberia Sub-Saharan Africa's first independent state in 1847.
The Evangelical Mass Choir and The Messengers SCCJC Choir both sang traditional Christian hymns, "Negro spirituals," as well as Bantu-style "High-life" gospel songs. Throughout the service, members of the congregation were overcome by the spirit of "Old Time Religion," giving the meeting the feeling of a rural Southern "camp meeting," or of an urban "tent revival."
From a large and deeply religious family of 10-including his older sister, the Rev. Lillian Mitchell of Atlanta, who is religious advisor to President Taylor, and who gave the gave the call to worship-the Rev. Taylor said he grew up in an extended-family household of 18 children with the President in the 1950s and 1960s.
While the Rev. Taylor's own father still lives in Philadelphia, his father's younger brother-the father of the President-was killed during the Liberian conflict. In fact, President Taylor lost two other members of his immediate family to the war-his oldest brother and his youngest brother. The war's toll claimed more than 150,000 dead, 500,000 casualties. Tens and tens of thousands more Liberians are refugees.
There is a "sense of destiny" among the more than 3 billion people on earth who live in what are called "Third World" nations, the Rev. Taylor said. "I believe there is a new momentum that is occurring today around the world. I believe that this is the time when the so-called Third World nations' are going to make a difference."
But, he said, quoting from the Bible (Proverbs 29th chapter), "without a vision, the people perish. Vision is very important. I need a vision for my life. You need a vision for your life. We need a vision for our community, for our country. We need a vision for the world. "Vision is a clear revelation of God's purpose. Vision is a clear revelation of God's plan for life." Without a clear vision of God's plan, the Rev. Taylor said, people cannot attain all that is possible for them. By seeing things the way God sees them, he said, "instead of problems, we will begin to look at opportunities."
Each nation needs visionary leadership, as well as followers, or citizens who act as "enablers" and "sustainers" of the leader's vision, he said. Enablers and sustainers, the Rev. Taylor said, are people who will take "concrete action"-even in the face of criticism-to make sure that the vision comes to pass. "It is better to be criticized for taking action, than to be ignored, for doing nothing," he said.
For his part, Min. Farrakhan reminded the worshipers that great calamities in life have a way of bringing out either the best or the worst in human beings. "Liberia is a great nation," the Muslim leader said, "that has come through seven years of the worst kind of war, a civil war." But, he said, also quoting from the Bible, "there is a balm in Gilead, to make the wounded whole. There is a balm in Gilead, to heal the sin-sick soul."
The Muslim leader warned those in government against pride and arrogance, and against being lulled into comfort by the trappings of power. "If the Master (Jesus Christ) could humble himself to wash the feet of His Disciples, who are we if we can't wash the feet of our people?" Min. Farrakhan asked. "The Master came to serve, and the Master came to heal. "Well, Liberia must become a hospital, and (here) we have Dr. Charles Ghankay Taylor. We are all workers in the hospital. We have a nation to heal. Liberia is a great nation. God has put you through the crucible of war, to purify the land with the blood. "Now that the blood has been shed, like the precious blood of Him Who came to save all, it is now time for Liberians, old and young, to bring the nation back to God. The doctor needs medicine. But the medicine does not come from the books of the world, the medicine comes in the Word of God," said Min. Farrakhan.
"The Bible says that it is a fool who says in his heart, there is no God," President Taylor said in his remarks. "But I know there is a God. Because if there is not a God, or if He is not on our side, I know that I would not be here today. And if He is not on our side, Liberia would not be where we are today."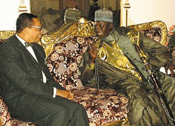 A deeply spiritual man like his cousins in the clergy who had spoken before, President Taylor concluded his brief remarks with a scripture. "Look upon mine affliction and my pain, and forgive my sins," he said, reading Psalm 25. "Consider mine enemies for they are many, and they hate me with cruel hatred.
"O keep my soul, and deliver me. Let me not be ashamed, for I put my trust in Thee. Let integrity and uprightness preserve me, for I wait on Thee." President Taylor expressed his appreciation to all his guests from the United States, and pledged to lead his country on a divinely charted path. "I just Praise God and Glorify God, that He has blessed me so wonderfully, that I have been designated by Him to lead this people, according to His Word and not mine."
In his final meeting before departing from Liberia, Min. Farrakhan urged Liberian Muslims to join and help President Taylor in the healing of the country. The Nation of Islam leader urged the Muslim community to excel in every area of endeavor, and to let the "light" and the wisdom of the Holy Qur'an "shine" in their daily lives in cleanliness and success, as an example for others to follow.
"I love you Muslims," Min. Farrakhan said to a packed auditorium full of cheering Muslims. "And I want you to know that I love my Christian family, and I will never forsake them. Prophet Muhammad (PBUH) taught the Christians. He spoke to them out of the Injeel (Gospel) and he spoke to Jews out of the Torah. He had to know both books. If you want to help in this work, you cannot be ignorant."
Photos: #1-Min. Farrakhan meets with President Charles Ghankay Taylor of Liberia. #2-Min. Farrakhan and President Yahya Jammeh, of Gambia, discuss issues during the Minister's World Friendship Tour III.
We want to hear from you!
Letters to the Editor