Farrakhan, Arafat discuss
plight of Palestinians
WEST BANK
'We are very
happy to
have this
opportunity to
meet our
brother'
-Palestinian Authority
President,
Yasser Arafat
by Askia Muhammad
Washington Bureau Chief
AMMAN Until all Muslims who live in the West Bank and Gaza can pray in Al-Aqsa Mosque, how could I rejoice, even going to pray, knowing that those whose land it is had become strangers in their own land? The Honorable Minister Louis Farrakhan asked reporters here Dec. 15 after his return from Palestinian-controlled territory in Israel without realizing his hope to pray at the Islamic holy site in Jerusalem.
The surprise arrival into Israeli-controlled territory by the Muslim leader, with help from Palestinian Authority President Yasser Arafat who hosted the trip, stunned authorities of the Jewish state who were caught off guard by the earlier-than-announced visit. Since Min. Farrakhan holds an American passport he was free to tour Israel, "without hindrance," according to a statement issued by the Foreign Ministry.
However, other officials of the government of Prime Minister Benjamin Netanyahu, including Cabinet Secretary Dan Naveh, were openly hostile and belligerent, calling for the Muslim leader and his delegation of 24 to be expelled "at once ... in a legal way."
In the face of a threatened provocation by the head of "Jerusalem Is Ours," an ultra-nationalist Jewish group, a spokesman for Jerusalem Mayor Ehud Olmert refused to guarantee the safety of the Muslim group. "It's a free city," Haggai Elias said in a published report. "Anybody can go wherever he likes. But if someone is instigating a provocation, then it's for the police to decide what to do."
Palestinian Authority advisers, including Christian Arabs who administer the Church of the Holy Sepulcher, advised Min. Farrakhan that they were concerned for the group's safety because they have no security authority in Israeli-controlled areas. The Muslim leader considered leaving Israeli-controlled territory immediately after meeting President Arafat, a delegation official told The Final Call. The next morning the Minister's desire to go to Jerusalem was "kindled again," but that decision was finally overridden.
"My mission was a mission of peace," the Muslim leader said of his decision to leave without entering Jerusalem, in an interview with CNN reporter Walter Rogers. "And after seeing all the ugly stories on tv and radio, I felt that if my presence would incite the passion of the hatred of the Israeli people for me, it would be better that I leave than my presence incite an incident with possible international repercussions."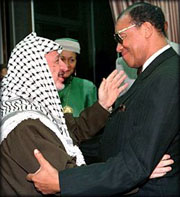 Recalling the arduous security screening even American citizens must endure to enter Israel from Jordan—long waits at numerous check points, luggage and sometimes personal body checks—the Nation of Islam leader recalled the long lines of Palestinians who receive no diplomatic considerations which he observed on his way into Gaza. Such daily indignities, President Arafat said in a briefing for the delegation, add four to six hours per-day to the work day of each Palestinian employed in Israel, when, that is, Israel opens her borders to permit the entry of Palestinian workers.
"There is a saying by Prophet Muhammad (PBUH), that one is not a Muslim, one is not a righteous person, until one loves for his brother, what he loves for himself," the Muslim leader told reporters. "The Israelis wanted a state. They wanted a flag. They wanted an independent and sovereign land. This they have. The Palestinians want and deserve the same thing," he said, citing one thing Israelis can do to help guarantee peace and secure their borders.
In the emotional first meeting between the two men, they embraced, then embraced again, recalling their mutual admiration for one another's commitment to the cause of justice for the downtrodden. President Arafat expressed his appreciation to Min. Farrakhan for his longstanding support for the Palestinian cause, and he related his fondness for the Honorable Elijah Muhammad, who preceded Min. Farrakhan as leader of the Nation of Islam, from 1934 to 1975.
In addition, President Arafat complained of dozens of incidents of "Israeli violations and non-compliance with (peace) Agreements (already) signed," by the Israeli government, releasing a document from his Negotiations Affairs Department, detailing the violations.
Muslims can help solve the problems of Palestine and help secure the peace process, Min. Farrakhan said. "The whole Muslim ummah, if it were unified, it could go a long way toward ending the suffering of the Palestinian people.
"And lastly, President (Bill) Clinton and the nations that signed Oslo 1, Oslo 2, the Hebron Protocols have a duty to the peace process," he continued, referring to the broken promises by the Israelis which have not been enforced by the U.S., Britain, France, Germany, Japan and Muslim countries which signed on, "guaranteeing" compliance by both sides when the Oslo Peace Accords were reached.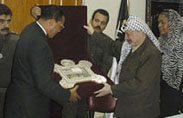 Comparing Mr. Clinton's and his Western allies' "appeasement" of the Netanyahu government to Britain's pre-World War II Prime Minister Neville Chamberlain, Min. Farrakhan warned that these countries, "become an accomplice in these atrocious actions that could very well lead to war in that area, a wider war in the Middle East, and then global war, if the peace process is not put back on track."
"I could not go to Al-Aqsa," Min. Farrakhan told reporters here, "but His Excellency President Yasser Arafat presented me with Al-Aqsa in the Mother-of-Pearl," he said, displaying a stunning boxed sculpture depicting the third holiest shrine to Muslims worldwide. "I can carry Al-Aqsa with me wherever I go."
(Photos: #1 -Min. Farrakhan speaks with reporters in Gaza; #2 -Min. Farrakhan embraces Palestinian Authority President, Yasser Arafat, #3 President Arafat presents Min. Farrakhan with sculpture, "Mother-of-Pearl".)
We want to hear from you!
Letters to the Editor