The Peacemaker departs
Minister Farrakhan and delegation
leave on World Friendship Tour
WORLD TOUR
'I would like to demonstrate how diplomacy and friendly relations should be carried out.'
--Minister Farrakhan
by Tyrone Muhammad
Staff Writer
WASHINGTON--Black America's most controversial and popular Muslim was given a warm "bon voyage" send-off Nov. 28, during a rally/press conference at Union Temple Baptist Church, where some 3,000 Muslims, Christians, Black nationalists and leaders of organizations came to wish the beloved leader well as he embarks on a 50-nation World Friendship Tour.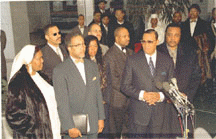 At the celebration, Min. Farrakhan discussed his Third World Friendship Tour and the reasons for it. It is time for Blacks in America to get involved in "international affairs" to lead a world gone off course back to peace, he said.
Blacks in the U.S., the descendants of slaves, he said, "must understand that you are an international people. It's no accident that we live in America ... that your fathers were brought here in the holds of ships."
Most of the Minister's 90-minute lecture was spent detailing his hopes that the tour would help bring peace to a world engulfed in conflict and yield trade, cultural and intellectual relationships for the Black community.
Min. Farrakhan detailed plans to visit Israel, where a peace deal brokered by the United States, Egypt and Jordan three years ago has nearly dissolved and violence between Palestinians and Jews has escalated.
"That area is so critical to world peace that if war breaks out there it may bring the whole earth into the war which is called Armageddon," the Minister warned.
Other tours stops include Iran (for an Islamic Conference), Iraq, Kuwait, the United Arab Emirates, Saudi Arabia, Syria, Israel, Palestine, China, Malaysia, Singapore, 20 countries in Africa, Libya, North Korea, South Korea the former Soviet Union and nations in the South Pacific, the Caribbean and South America.
"I would like to demonstrate how diplomacy and friendly relations should be carried out," Min. Farrakhan said, explaining how the U.S. and other world governments have strayed from the path to peace.
According to the Muslim Minister, the U.S. government is making "a grave mistake" in its dealings with Iraq and the Arab and Muslim World. Increasingly bad U.S. foreign policy towards Muslim nations, namely Iraq and Libya, could bring "grave consequences" to the U.S., he said.
The Minister also pointed out the double standard employed by the U.S. in dealing with Arab governments as opposed to European governments.
"The Cold War is over so America wants to help Russia," Minister Farrakhan noted. "The war with Iraq has been over nearly seven years and seven years after the war is over, nearly a million and a half Iraqis have died," but no help has come from the U.S., he said.
"The war has continued in the name of sanctions. What's the problem America? ... 'Well we have a mad man over there, Saddam Hussein and he is making weapons of mass destruction.' "
The Iraqi president "can hide weapons for seven years, but he can't even fix an incubator in a hospital?" asked Min. Farrakhan.
"When it becomes policy to destroy, the American people's minds are prepared so that you can go along with the policy. They want Saddam Hussein dead, so they started the media campaign. Now, some of them are getting on the television openly calling for the man's assassination," he told the audience.
"I don't know who's advising the president, but he needs better advice. I'm not lobbying for the job," the Min. Farrakhan said. "But you know sometimes God raises from the abject someone to give the powerful and the great wise guidance. It seems to me that ... America needs overhauling."
The press conference/rally was the spark that ignited a flurry of media events for the fast-moving Muslim leader, whose grueling schedule over the last two years has included two legs of his World Friendship Tours--one to Africa and the Middle East, the other to the Caribbean.

Earlier that day he appeared on CNN's Evans and Novak news program where he was introduced as the "most influential and most criticized Black leader" in America. The Minister discussed his desire to bring peace among Muslims in the Middle East, destroy the idea of terrorism against innocent life and to see Israel halt construction of settlements in the Occupied Territories.
He said that every time America misuses her tremendous power, she loses influence among Muslims and her allies. And concerning America's demand for trial in the United States or Britain instead of a neutral country of the Libyans accused of the Pan Am 103 bombing over Lockerbie, Scotland, Min. Farrakhan said: "America uses her influence to impose sanctions ... over an incident they haven't proved is entirely correct. We ought to go to trial somewhere to find where the truth lies."
On Sunday morning, Nov. 30, the Muslim leader was questioned on Fox television's "The Tony Snow Show" Min. Farrakhan said he hopes President Clinton and his advisers would see the failure of policies toward Saddam Hussein and immediately end the sanctions on Iraq.
"Let's sit down and talk to Saddam Hussein, leader-to-leader, human being to human being. And I do believe he wants a better relationship with America, and I hope when I go to Iraq that I will be able to report to American people that here is a man that is ready to sit down talk with the American administration and come to terms with the disagreements with America," he said.
The following day, Min. Farrakhan dispatched Nation of Islam attorneys Min. Ava Muhammad and Min. Arif Muhammad to the State Department for a briefing with Secretary of State Madeline Albright in response to a suggestion by U.S. Ambassador to the United Nations Bill Richardson on "Meet the Press" television news show. Min. Benjamin Muhammad and Min. Kevin Muhammad in New York were dispatched to the United Nations to seek a meeting with Ambassador Richardson. (See related story on side bar.)
At the rally/press conference at Union Temple church, representatives of various groups and organizations attending the celebration hailed Min. Farrakhan's World Friendship Tour
Ahmed Al-Kaissiy, of the Iraqi diplomatic mission, told The Final Call that if anyone could bring peace to the world, even in Iraq, it is Min. Farrakhan.
"The Iraqi people thank Min. Farrakhan for what he is doing at the present time to uplift these unjust economic sanctions against Iraq," Mr. Al-Kaissy said. "He has the highest voice in the world these days, and can reach the whole world."
Mr. Al-Kaissy, who grew up in the Middle East, said he found it amazing that Min. Farrakhan could reach so many people in a Christian church.
"It is important for us to send Minister Farrakhan off on this very important mission," said Maryland state legislator Clarence Mitchell, who hoped the trip would solidify economic linkages for Black America with Africa and China.
"Baltimore has the largest open-water port on the East Coast. We can make use of that with linkages with African and Asian nations, but we're not doing that right now. I'm hoping that Min. Farrakhan can build that bridge," State Sen. Mitchell said.
Southwest Regional Minster Robert Muhammad sees the World Tour as an example of the "universality" of the teachings of the Nation of Islam.
"We had the teaching amongst us for 67-years, but now it's time for the world to get it because the world is actually sick, as we were sick, but sick in a greater way," Min. Robert said.
"The world is saying we are out of solutions, we need solutions, but solutions which come from a pure heart, through clear eyes and from a balanced mind. The man of God is the Honorable Louis Farrakhan and he brings these qualities to the world's situation," he added.
During his tour, Min. Farrakhan plans to answer an invitation extended by Palestinian President Yasser Arafat and Sheik Mohammed Al-Jamal Ar-Rifai, the Resident Imam at Al-Asqa Mosque in Jerusalem. The Minister was invited to visit and pray at the mosque, the third holiest shrine in Islam.
The Palestinian sheik predicted "one million of the faithful," will greet him at the mosque, Min. Farrakhan said.
While in Israel, the Minister would like to meet with the Palestinian Authority and the Israeli government. "I know there will be some who'll say don't give him an ear, but I will only offer to come," he said.
But, Min. Farrakhan, stressed the role of peacemaker is not his alone. "God is raising you (Black Americans) up to play an important role in world affairs," he said.
"You are chosen of God really to bring about complete change in this country. You are the soul of it. You have soul to give America a sense of balance now that she's imbalanced by her own power, wealth and corruption. God is raising you up, you are no longer the old plantation boy or girl that you were, " he said.
We want to hear from you!
Letters to the Editor